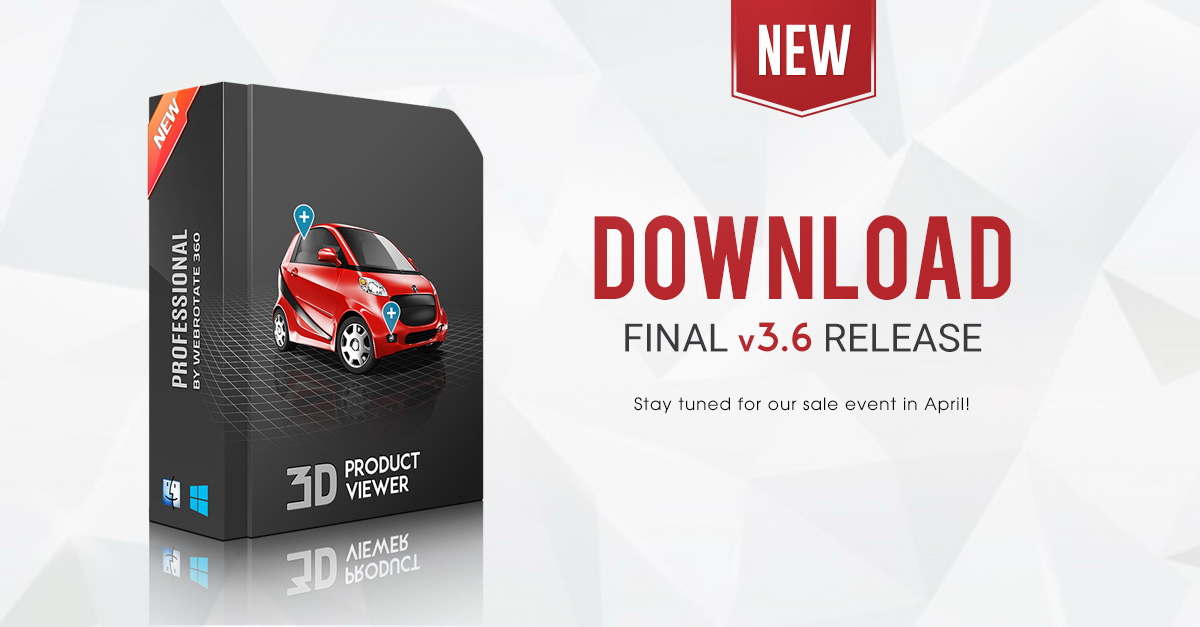 If you haven't noticed, version 3.6 of WebRotate 360 Product Viewer has been finally released!
This is a big event for us as it has been pretty much exactly two years since we started working on v3.6 and the number of enhancements and features that went into this release is huge (version history). There have been at least 5 beta releases and numerous one-off builds for our customers who needed some of the new features early in production. In general, our philosophy is to not release often as making sure nothing breaks for users across multitude of setups, browsers, and platforms on the web takes a lot of time.
With v3.6 we have addressed these three major areas:
3D PRODUCT VIEWING
Until v3.6, we could only spin images on a single plane and this was alright for some time. After all, we have been shooting single-row 360 product views since 2009 and knew exactly where the need was. But Internet speeds have increased dramatically in the last 3-4 years and browsers stepped up their game, so loading multiple rows of images for full 3D product viewing become feasible and not just on desktop but mobile as well.
Not to mention, folks started to figure out how to shoot products in 3D and the usage of 3D modeling in product design have also increased. With v3.6 we give you the framework to create cool interactive 3D product views that work across all modern mobile devices and web browsers.
WEB INTEGRATION
What our users always loved about this product is the polished up viewer output. It's super interactive, slick, and fluid with a large number of easily configurable options. We put in extra effort making sure it doesn't take over your product pages while modern enough to contribute to your product presentation.
In v3.6 we pushed further to give you more control over the features and looks as well as more options to assist with the web integration. From advanced APIs and the "shortcode" template to new vector (SVG) skins and Google Analytics integration, with v3.6 you can take your vision to new heights.
MOBILE
A big chunk of work in early-mid 2016 was to make sure the viewer works great on modern mobile devices. We practically rewrote the hotspot rendering engine and introduced new hotspot type to address some of the shortcomings in the earlier versions. Viewer become fully responsive with more control over presentation on small mobile device and high pixel density screens.
Unfortunately, we couldn't fit in the new incremental zoom which was ready by the time v3.6 release candidate was out as it would require major retesting, so this feature will be released in the follow up v3.6.2 later on. And the work on the major 4.0 release is now going at full speed...
PS: if you are on v3.5 or an earlier release of WebRotate 360 Product Viewer and have either PRO or Enterprise license, please contact us to get the upgrade as it's free for all customers. Users on v3.6 beta can check for updates on the About form in SpotEditor to download this release.