Sep 05, 2017 - New Prestashop integration v2.5.0 for Prestashop 1.7.x has been released. To learn more, visit this page.

It has been a long journey since the first version of our plugin for PrestaShop that has been introduced almost three years ago. Prestashop v1.3-1.4 that we had to deal with at that time didn't have advanced module integration like the recent PrestaShop releases and the first version of WebRotate 360 Product Viewer for Prestashop ended up being somewhat clumsy.
So it's with great relief that we can finally say that our completely reinvisioned and reworked plugin for PrestaShop 1.6 is finally available! It has all the bells and whistles of our popular plugins for Magento and OpenCart: from full responsiveness of your 360 product spins, viewer popup mode, 360 product viewer skins to custom prettyPhoto gallery integration & theming, Quick View support and more. All polished up with great care to work with your PrestaShop 1.6 themes and admin.
DEMO (via embedded 360 product view mode; popup mode is configurable)
Click on the image below to navigate to our new PrestaShop demo: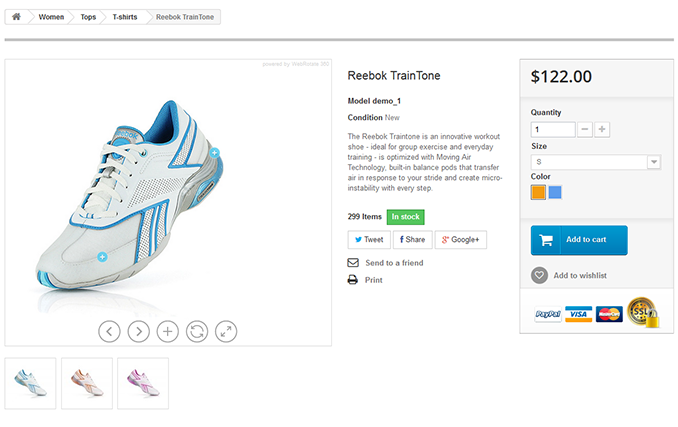 INSTALLATION

:

1. Click "Add a new module" under your PrestaShop Admin->Modules and navigate to webrotate360_prestashop_module_vX.X.zip on your computer to upload the module. Or install manually by copying or uploading the webrotate360 folder inside the zip to your PrestaShop modules folder.

2. Then navigate to your Modules tab in PrestaShop Admin, expand Other Modules and click Install next to WebRotate 360.

3. Select Configure on the WebRotate 360 module to configure the module as needed. Detailed field descriptions can be found under each configurable parameter.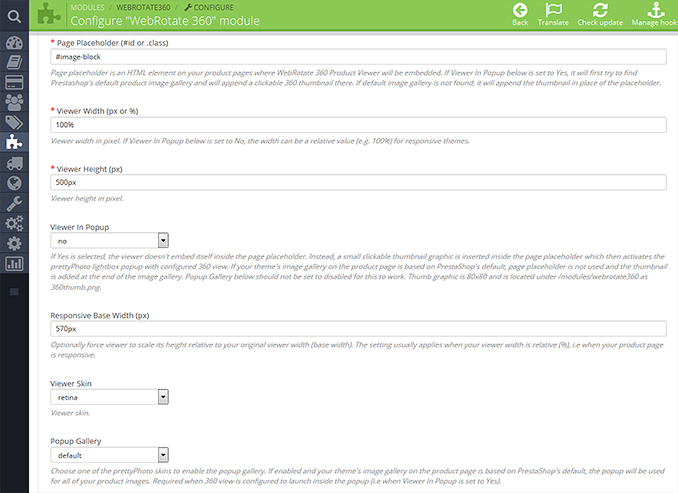 4. Publish your 360 product views using WebRotate 360 SpotEditor (http://youtu.be/W3uFpXy1ne4) and upload them somewhere on your PrestaShop server via FTP. Note that you only need to upload a single folder that is auto-created under 360_assets in the published folder of your SpotEditor project upon publish.
5. Navigate to your Catalog->Products in Admin and add config xml URL for your uploaded 360 views under desired products in your catalog inside the WebRotate 360 tab. Sample 360 view & config xml URL is provided in the tab description.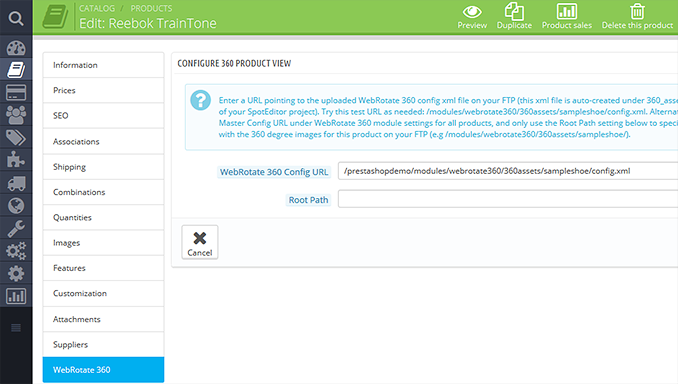 Let us know if any questions or issues on our forum or directly via email (support at webrotate360 dot com).