We have released a long awaited support for OpenCart 2.x which is a recent major release by the OpenCart team that we really really enjoy!
This time we completely reworked our integration for OpenCart 2.x to support gallery integration with skins (via prettyPhoto), an option to embed your 360 product view inside OpenCart's product image gallery via extra thumbnail / popup, full responsiveness as part of the new OpenCart layouts, 360 product viewer skins, multi-store support and more.
DEMO (via embedded 360 product view mode; popup mode is configurable)
You can download the new module via OpenCart's extension store here. Just check out the Documentation tab there for specific OpenCart 2.x integration instructions using two vQmod files supplied with this release. Once the module is installed, please follow the text descriptions under each field on the WebRotate 360 module page in your Admin for detailed customization options.
Click on the image below to navigate to our OpenCart demo: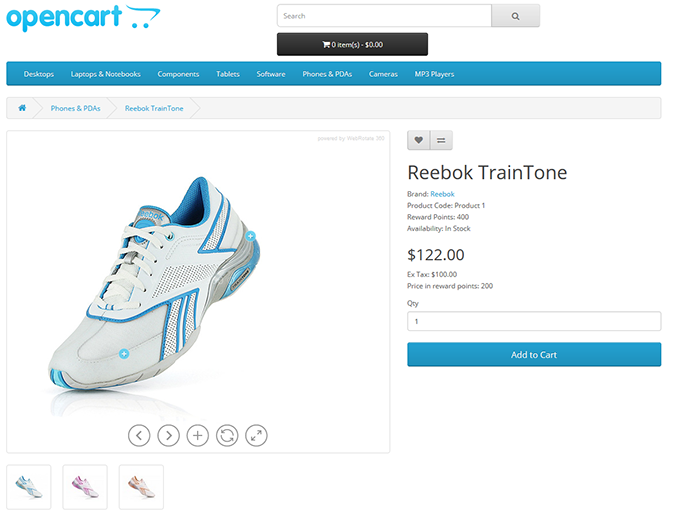 If you require any assistance or support with your integration or upgrades, please let us know on our forum or email us directly at support at webrotate360 dot com.
Please note that this release (v1.5) will not run on older OpenCart versions (prior to 2.x).
PS: a quick screenshot of the module admin panel where you can see some of the new settings: