Announcing the release of v1.6 of our OpenCart integration. This one took some time as OpenCart had some major changes starting with version 2.2.0.0. We also wanted to incorporate all of the latest features that we have been releasing this year as part of v3.6 (version history).
So now you can enjoy multi-row 3D product views, Google Analytics integration, new styling with svg skins, new hotspot modes and various other improvements and fixes. This also allowed us to take some time to polish up our admin dashboard to look good and consistent with the rest of the OpenCart admin eco-system.
Folder structure of the module was re-worked to comply with the new OpenCart guidelines, so if you are on OpenCart 2.2.0.0 or 2.3.x and upgrading from the previous version of the webrotate plugin, it's best to remove the old plugin files first and then re-install using the new download links.
To remove old plugin files, please delete these files and folders fist:
admin\controller\module\wr360
admin\controller\module\webrotate360.php
admin\model\catalog\webrotate360.php
admin\view\template\module\webrotate360.tpl
admin\language\english\module\webrotate360.php
catalog\controller\module\wr360
You will also have to delete this webrotate vQmod file as it has changed as well:
vqmod_webrotate360_header.xml
Good news is that the database structure hasn't changed, so all your existing 360 product view configurations will remain intact and will still work with the latest version of the core 360 product viewer.
We now also have a dedicated page for the OpenCart plugin where you can find the latest downloads and instructions as well as the version history:
WebRotate 360 Product Viewer Integration for OpenCart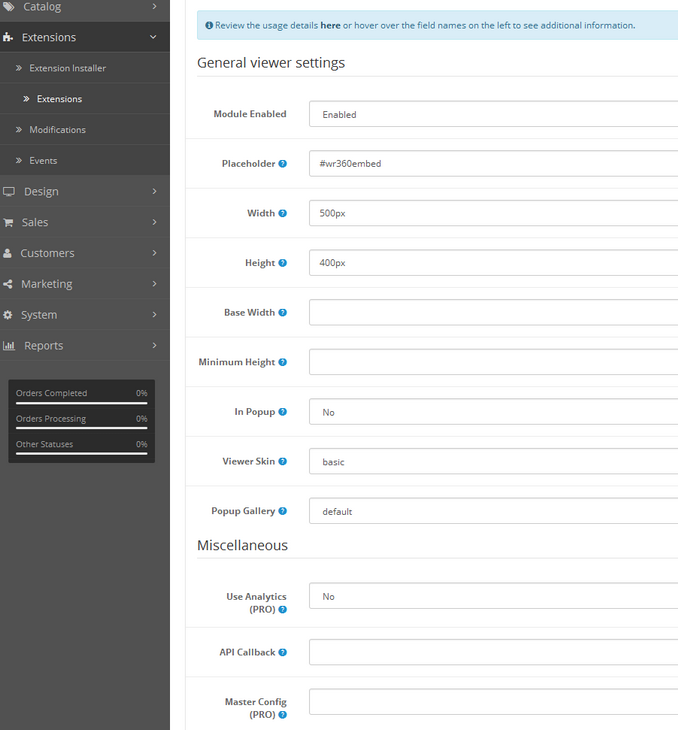 If you have any issues with the installation or upgrade, please let us know.