Happy to announce the new build (550) of our 360 product photography software with a couple of interesting additions. If you have purchased the product before, please re-download and reinstall using v3.5 download links you should have received from us previously. If you haven't received the links for v3.5 PRO downloads, please email us to support at webrotate360 dot com or purchase the PRO license here. If using the free version of the product, please download the new build here.
This build features several new hotspot actions in addition to the one we had there for a while which was just opening or browsing to a URL on click / tap inside a hotspot:
LABEL ACTION
You can create lables for any number of your 360 degree product photos under the Images tab inside the List section and then assign such labels to the Hotspot actions on the Hotspot form under Actions as per the following screenshot. Note that you can either jump to a label (image) on click / tap or play to a label with a configurable playback speed which is called Period. Period represents the number of seconds it takes to make a full 360 degree spin. As with any hotspot actions, it's possible to assign such action to either rotating (dynamic) hotspot or a static one that can be positioned anywhere inside your 360 product view.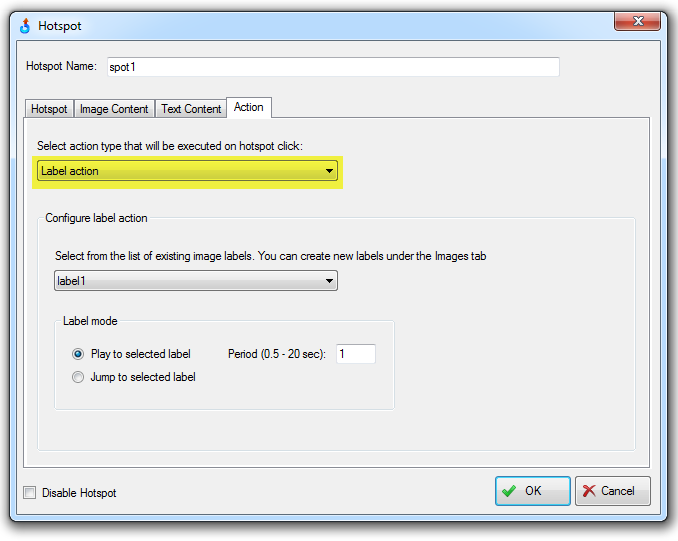 To create a new label just double-click on any thumbnail image under Images->List and enter its name: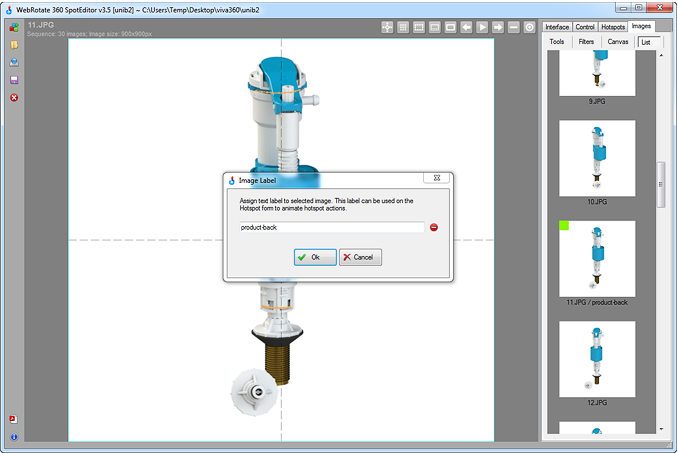 CONTROL ACTION
This action allows you to assign any of the existing toolbar functions we currently have (playback, full-screen, zoom, etc) to your hotspot actions which can be then activated by user on mouse click / tap inside the hotspot. Same as with the label actions, this hotspot action can be assigned to a dynamic or static hotspots, allowing you to override our standard toolbar controls as you wish (i.e you can hide the default toolbar controls under the Interface tab and then create static hotspots anywhere inside the viewer to serve as your custom toolbar controls.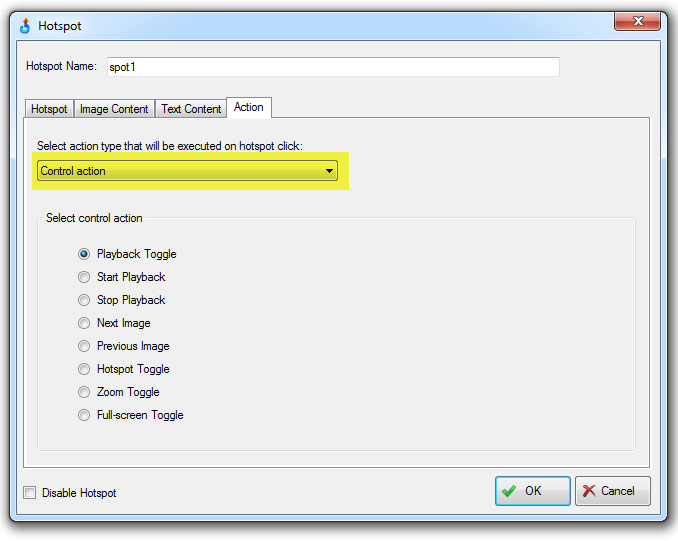 XML RELOAD ACTION
This is a useful capability that allows drilling down into any number of associated 360 degree spins inside the the same viewer box via click / tap inside a hotspot. Simply add a relative (or absolute path) to your other 360 product view in the hyperlink action box that you can see on the following screenshot. This can be useful for product part exploration, loading additional color combinations, navigating inside architectural 3D views, and more!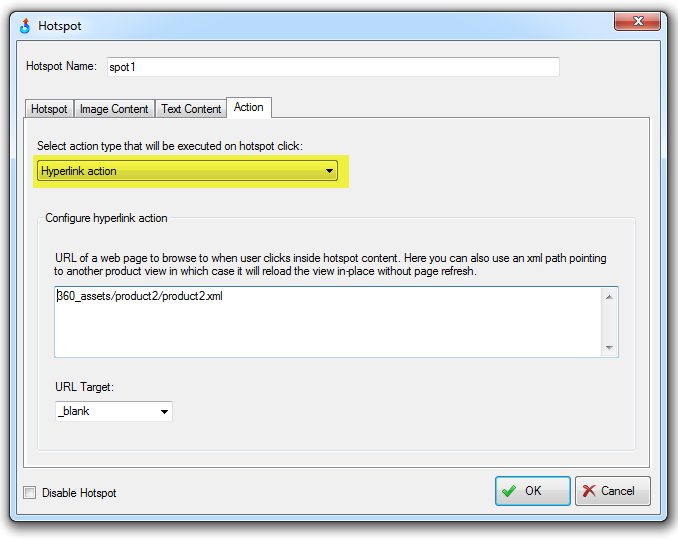 IMAGE ROTATION
This build also features our new auto-rotation capability for importing your 360 product photos that can be activated on the New Project form via the drop-down menu marked yellow on the following image.
UPDATE - August 7th, 2014: build 764. More new features and fixes: 
PS: project and configuration files are backwards compatible so your older 3.5 projects should open and work fine. Also, you don't need to reinstall X11 or Mono if using Mac - just copy SpotEditor app to your Applications or Desktop.