Here is another recent example of an excellent implementation of a 360 product view that we think truly stands out.
Produced by Lowe Alpine to showcase their high-tech backpacks, these 360 degree photos deliver one of the best online product presentations we've seen so far. See one of the sample 360 views here or just click on the image: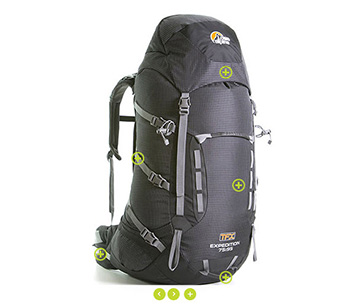 The backpack pages feature nicely blended high-quality 360 product photography with neatly organized hot-spots, all tastefully crafted into website's look and feel (notice how all of our standard toolbar graphics have been overriden with custom imagery).
We are glad that the guys at Lowe Alpine picked our WebRotate 360 Product Viewer and put it into a good use!