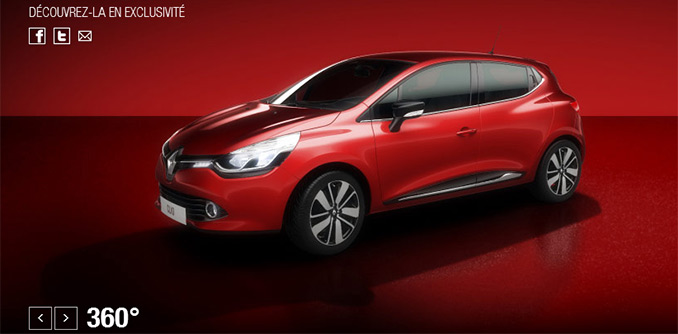 We have just learned that our new product viewer v3 now powers multinational launch of Nouvelle Renault Clio on various localized Renault websites worldwide. The quality of Clio's 360 degree product spin is awesome - very clean and customized with great style. What makes it even more interesting is the cool animation that starts upon page load and which is entertaining on its own, practically eliminating any noticeable wait for the 360 images. Click on the image to see it in action or check it out here. 
It's really exciting to see companies such as Renault using our technology in their major product launches. Just a few weeks ago we reported another major car maker this time in India, Mahindra, launching 360 views of their new sleek XUV500, which is also a great demonstration of how a good designer can manipulate with our raw product and make it look really neat and in the same time achieve their marketing needs.
Another thought that comes to mind, while looking at these 360 degree spins is that our technology has a lot to offer to all things 3D. From 3D printing to booming 3D CAD models for various applications, our product viewer makes it possible to quickly create solid interactive annotated 3D presentations that can be shared over the net in a snap. And unlike 360 photography, where we're really limited in the ways we can approach a photo-shot, 3D product modeling / rendering gives virtually unlimited camera flexibility that can create really impressive presentations. For example, here's an interesting 3D view of a fibre optic gyro by CDL Inertial Engineering - link.
Notice how we can now see the product rotating almost spherically while this is still one row of images inside our 360 degree spin viewer - this feels really fluid comparing to some of the 3D product views where it takes some practice to navigate a product spherically in full 3D with a mouse.