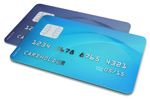 We love PayPal. It gives us great flexibility, low transaction fees, truly global coverage, and many other great goodies. Though we have been struggling with the service in the last few months. Some of our customers have experienced odd issues when submitting credit card payments for our 360 product views without signing into PayPal.
Regardless of the type of credit card they used, PayPal would always come back with an error, saying "The credit card you entered cannot be used for this payment. Please enter a different credit card number". This is pretty embarrassing when you can not accept a payment from your client, especially after the frustration of going back and forth on e-mail/phone trying to resolve the issue together. The problem here is that PayPal wouldn't really specify why this can happen...
It appears that this is a pretty well known PayPal glitch. Based on the article here, there are several possible causes:
Credit card is linked or associated with an existing PayPal account

Credit card was previously used with a PayPal account or assigned to a closed PayPal account

PayPal has a limit on non-member credit card usage

Credit card or email address raised a red flag during transaction

Leftover PayPal browser cookie on user machine
Unfortunately we couldn't really find a reliable solution and that prompted us to sign-up with a dedicated credit card processing service (2Checkout), which is now offered on our customer invoices in addition to PayPal. Yes, it has higher transaction fees, though the piece of mind it gives to our clients will definitely worth it.