| | |
| --- | --- |
| Can't see content of this e-mail? Click here for browser version. | Unsubscribe here |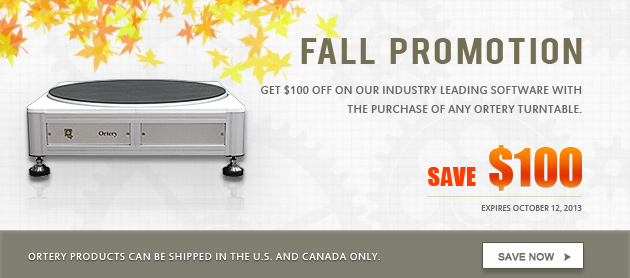 Professional 360 Product Photography Combo





Buy any Ortery Turntable with WebRotate Product Viewer PRO and save $100!



Ortery turntables are robotic workhorses of 360 product photography. Choose between our smallest PhotoCapture 360 and all the way to PhotoCapture 360XL that can handle an impressive 1000 lbs of load. Or consider our new Photobench series that take the lighting guesswork out of the way. Included Ortery software controls every step of your automated photoshoot. Then export your finished images into WebRotate 360 Product Viewer PRO to create professional 360 product spins with free integration available for Magento, OpenCart, BigCommerce, PrestaShop, WordPress and more! Check out some of our work that was created using Ortery machines in house - samples.

Find out more about this offer »

Ortery products can be shipped in the U.S and Canada only. If you are located outside of the U.S or Canada, let us know and we will try to hook you up with our partners in other parts of the World that sell similar equipment.
PhotoCapture 360


PhotoCapture 360 turntable (25 lbs) with included 11.4" & 15.7" platforms is ideal for shooting small products such as glasses, shoes, wine bottles, small devices and similar. Ships free!

Explore »

PhotoCapture 360M


Our most popular turtable features 22" platform and holds up to 200 lbs. 36" and 47" attachable platforms are available and sold separately. Great for shooting heavier products. Ships free!

Explore »

PhotoCapture 360L


Heavy duty 360L model offers a 22" platform with 400 lbs capacity. It can handle anything from a scooter to pieces of furniture. Larger attachable platforms (36" and 47") can also be used.

Explore »
Host & Share Your 360 Product Views YouTube Style



Our latest utility is now available for all users! Imagine you can have your own hosting service for your 360 product photography and let your clients use your 360 product views by simply pasting a simple YouTube style sharing code onto their pages. Now this becomes possible thanks to a simple sharing script from WebRotate 360 that you can upload online in addition to the actual 360 views like you would usually do with our software.

Learn more and download »
Group Delphi Uses WebRotate 360 For Interactive 3D Animations



Group Delphi worked with WebRotate 360 to create a touchscreen demo at an industry tradeshow showcasing several industrial motors. 3D CAD models were animated to show the exploded views with pop up details as well as rotations of individual parts. After the show it was so well liked the client wanted it packaged as a self running PC app for sales to use on laptops. Finally it was also made into an internal iPad app for sales to take on the road.

Video Demonstration »