| | |
| --- | --- |
| Can't see content of this e-mail? Click here for browser version. | Unsubscribe here |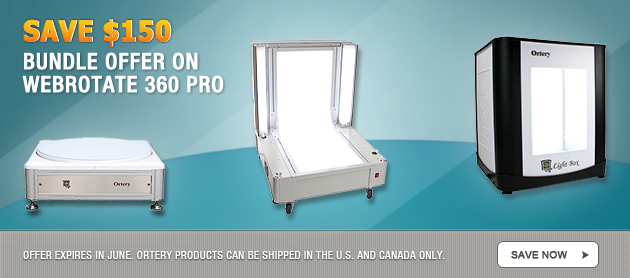 PhotoGear 360 Launch Promotion Expires on June 23rd.





Buy any Ortery Turntable or Lightbox and Save $150 on WebRotate 360 Product Viewer PRO.


It has been a year since we launched PhotoGear 360, our professional 360 photography equipment store. As part of this launch, we have been offering 50% off on WebRotate 360 Product Viewer with a purchase of any Ortery Turntable or Lightbox. This promotion expires in less than two weeks!

Check out these popular products below and take advantage of this offer today - buy any of the Ortery products at PhotoGear360.com and we will send you a coupon code with a 50% discount on WebRotate 360 Product Viewer PRO.

Ortery products can be shipped in the U.S and Canada only. If you are located outside of the U.S or Canada, let us know and we will try to hook you up with our partners in other parts of the World that sell similar equipment.
Ortery 3D Photobench 60


Create product shots and 360 product views of watches, rings, bracelets and other jewelry. Get pure white backgrounds and immediately use them for the web, print or any application.

Explore »

Ortery PhotoCapture 360


Create 360 videos and 360 degree animations with PhotoCapture 360. Simple to use, this image automation production tool boasts a 11.4" and 15.7" diameter platform and 25 lbs load capacity.

Explore »

Ortery PhotoSimile 100


Computer-controlled photography studio makes taking professional photos simple and efficient. Ideal for small products and jewelry. Takes professional, shadow-free pictures.

Explore »
New and Improved Plugins For Magento, OpenCart, WordPress



Did you know that WebRotate 360 technology now includes free plugins for Magento, OpenCart, PrestaShop and WordPress? Plugins are small out-of-the-box components that make it possible to quickly integrate our 360 viewer using dedicated support provided by these popular web platforms - no programming knowledge is necessary!

Magento, OpenCart and WordPress plugins were just reworked from scratch to include our latest features and your feedback. Dedicated support forum is also available for all related questions for each type of the integration. If you are a BigCommerce user, our BigCommerce Beta integration is available upon request.


WebRotate 360 Product Viewer v3.5 is Around the Corner



It has been almost a year since our last major product release (v3) but don't worry - we didn't stop there! Even through the development of the new version was slower than expected, we have now assembled an impressive list of new features and enhancements that will make the upgrade worth the wait: full-screen, inertia, multiple on-page 360 views, jQuery plugin support, video hot-spots, responsive layouts, new skins, APIs and more! There're also several important changes for broader mobile support and browser coverage as well as many fixes. Download latest limited preview Beta (doesn't include PRO-only features and SpotEditor 3.5) here »

If you have purchased PRO or Enterprise license before and would like to give it a try, please request a more complete 3.5 beta script with some of the new PRO only features. Note that this 3.5 upgrade will be still free for all of our past clients. And if you were considering getting PRO or Enterprise, now is the best time as we're changing the price and feature editions with 3.5, so if you jump on board now, you will be getting more for less with the upcoming v3.5 release!


Fix for Internet Explorer 10 Mouse Drag Issue



We have identified a critical issue in the Internet Explorer 10 release for Windows 7 that broke mouse dragging in all 360 product views running in JavaScript mode with WebRotate 360 Product Viewer v3.0 and also early Beta 3.5 builds up to 111. Fix was made available on our blog just a few days after the official Microsoft IE 10 release. Read more »